If you ever wanted to live on a beautiful island in the Canaries, you've just arrived at one of the best places you can find! Directly from the finca (small holding), you have the most stunning views at every turn and a wonderful climate to go with it.
And the great thing is that the finca is not cut off from the rest of the world at only 1hr 15mins from the international airport and an excellent internet connection!
Hello! We are David and Ann and we live on La Palma, the most north westerly island in the Canaries. Having lived here for 21 years on our small holding (finca), restoring the many buildings in the early days and then looking after guests from many countries, working the land and running an on-line holiday accommodation business … we are now ready to drift around in a motor home and spend time with our family!
We would love you to have the opportunity to live here and have the most joyful time as we have done. So don't stop here, scroll down, across and around to see what this wonderful finca offers - yes, it really is for sale!!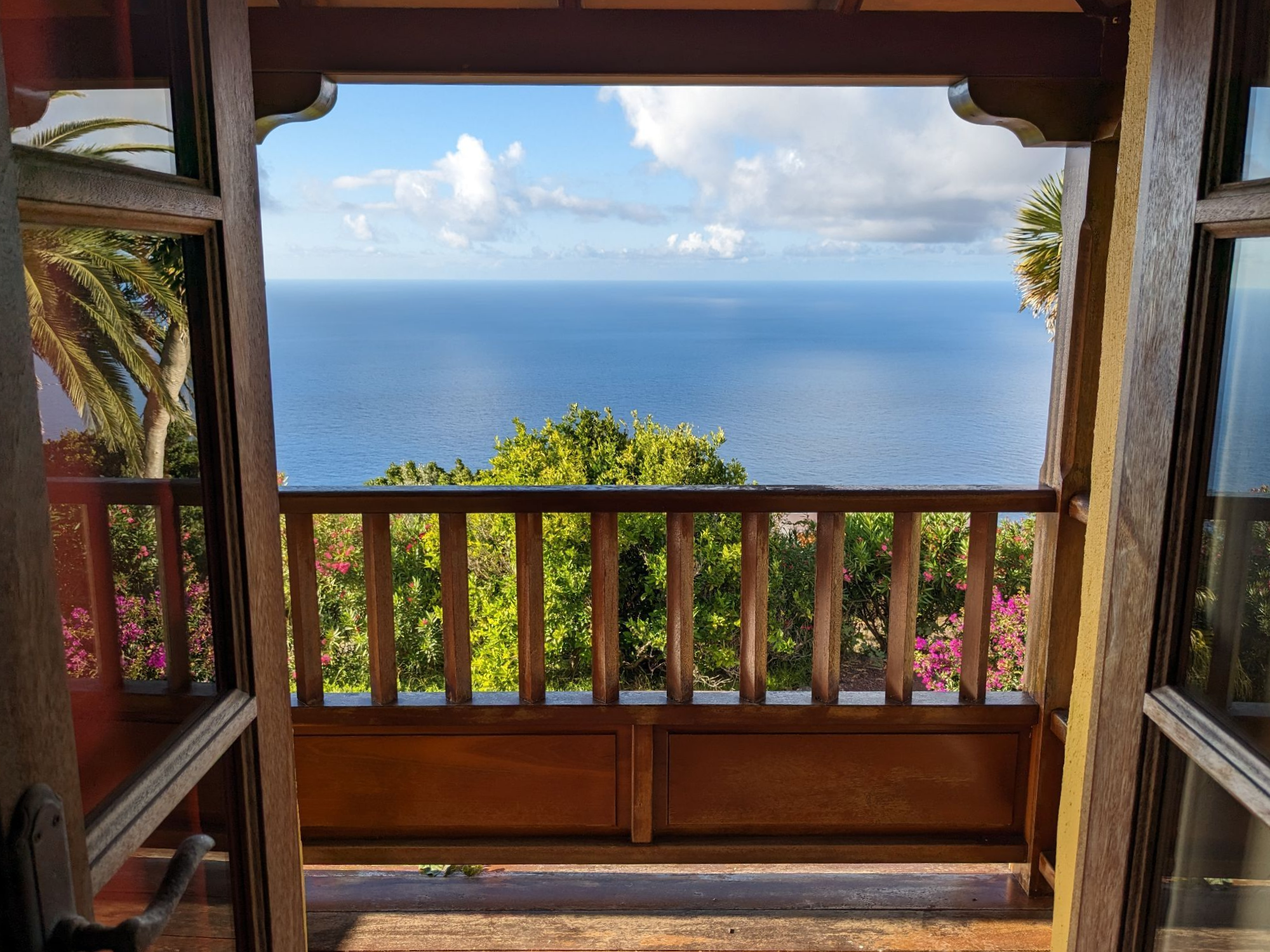 Why would I want a finca on La Palma?
Good question - why wouldn't you!
Compared to northern Europe:
1. It has a temperate climate, not too hot and not too cold
2. The cost of living is cheaper
3. It has more daylight hours
4. There is little air pollution and almost none in the north of La Palma
5. It's a safe and friendly environment
6. La Palma has one of the most privileged locations on the planet for astronomical observation and star gazing!
AND WHAT ARE THE SPECIAL POINTS ABOUT FINCA FRANCESES
1. An almost panoramic view of the Atlantic Ocean, pine forests and nearly to the top of La Palma. Plus the surrounding nature and walks.
2. With plenty of land you can grow your own fruit and vegetables.
3. You have an immediate business with the finca accommodation already on Airbnb and Bookingcom for some years.
4. There is additional accommodation for your family and friends.
5. The internet connection is excellent so you can easily work from home.
6. If you are looking for an online business, we can also offer you our on-line agency of holiday accommodation on La Palma (currently on snooze).
If you are interested in purchasing Finca Franceses or would like further information, please complete the form below and click the Send button to get in touch with us.
Thank you for submitting the contact form.