Casa Gloria has a truly panoramic view over the bay of Franceses and the whole of the north coast of La Palma.
With two patios and an ornamental garden, there's plenty of choice from where to view it!
Casa Gloria is a two-storey cottage nestling in the north of La Palma.
You can also find information about Casa Gloria on Booking com
Originally a farmhouse cottage with the upstairs consisting of two bedrooms and downstairs a carpenters, Casa Gloria was built using local stone and tea wood. The wood is the heart of the mountain pine from the pine forests high above the house. The walls of the house are almost two-feet thick.
This gives it a cosy and romantic atmosphere!
Downstairs the lounge with kitchen/dining ceiling has exposed wooden beams whilst the bedroom upstairs has a hip ceiling.
The lounge area has a comfortable three-seater sofa, a maple cabinet with sets of cups and glasses plus a pine storage unit with information on the island. There is a good selection of books plus a few games which include chess, backgammon, bananagram, cards and dominoes.
For listening enjoyment, there is an Internet radio with bluetooth so you can enjoy local radio stations, your home radio stations plus connect to your own playlist from your phone.
For films, a DVD player with a good selection of DVDs is available on request.
For your cooking needs, there is a four-ring gas hob, microwave grill, large fridge/freezer, twin sinks and a full range of kitchen utensils. Matching sets of quality crockery are stored in the wooden display shelving built into the wall, a traditional feature of old Canarian houses.
Upstairs is a large bedroom, once the sleeping accommodation for a Palmeran family with eight children.
Nowadays, it is rather more romantic and as one guest said, 'It's like sleeping in heaven!'
The high wooden ceiling is of the hip or 'cuatro aguas' design, being of four sides. The wide, hand-sawn floorboards are also original and traditional to La Palma and are made of tea wood which is the heart of the pine tree from the pine forests of La Palma.
The original seats of wood set into each window ensure that you can enjoy the best of views.
From the bedroom, there are even more spectacular views across the north coast of La Palma. And inside, with the spacious and romantic bedroom, La Casita is perfect for a dreamy holiday or honeymoon.

By the twin windows, in addition to the wooden window seats, there are also two armchairs so you have comfortable seating both downstairs and upstairs.
The antique-style bed has a luxurious duvet of synthetic and duck down mix which is light and yet deliciously cosy.
Between the windows you have a hand-made dressing table and stool plus a mirror. There is also a wardrobe with mirror and 12 wooden hangers each, bedside cabinets, hairdryer and a selection of books at the original built-in shelving.
The large en-suite bathroom features a full-size Victorian style roll-top bath.
It is perfect for a sumptuous soak as there is unlimited hot water - and plenty of room for two. This is a bath with a view!
In the bathroom, there is also a radiator/towel dryer, two dressing gowns, iron and ironing board.
You can enjoy your holiday cottage from the outside as well - if you are not out exploring La Palma or walking on the many nearby walking routes, then you can look forward to a serious session of unwinding surrounded by nature and beauty.
Just sit back and listen to the buzzing of bees or the tinkling of goat bells!
For holiday accommodation with astronomy, astrophotography or simply star gazing, the night skies from Casa Gloria are awesome!
These photos were taken from the patio of Casa Gloria.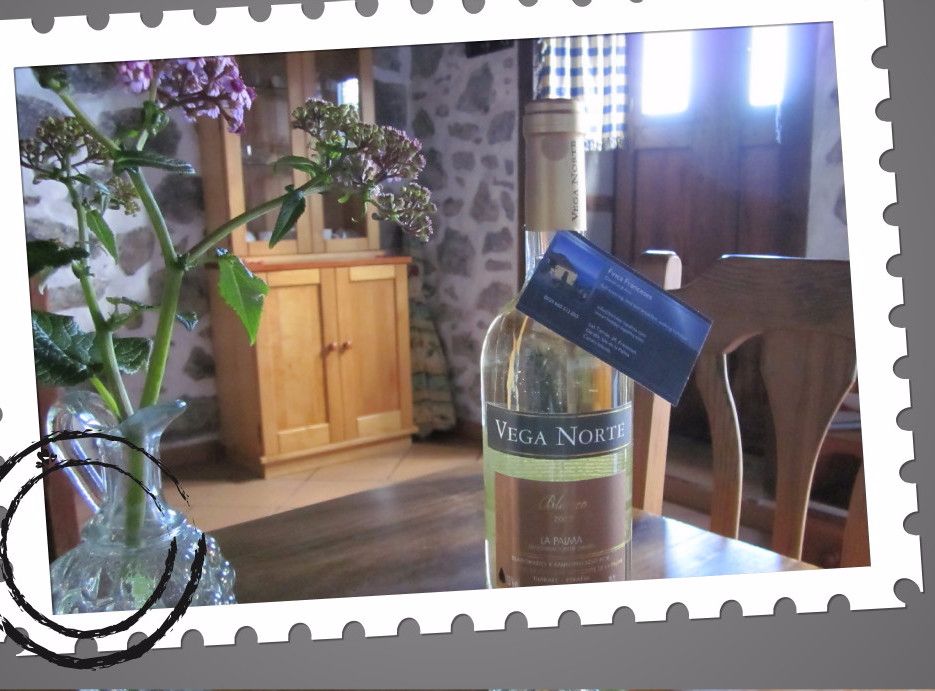 Price: 350€ per week for 2 adults maximum (tax included)
Sorry no children, only babies up to 12 months accepted
(baby cot, baby bath and high chair available free)
Also included in the price:
Unlimited Wifi
Use of two Trek mountain bikes
Use of two guitars
A bottle of wine from La Palma's own vineyards
6-page guide to Garafia and surrounding areas
Walking information
Pets are not accepted
CONTACT US now for availability, price or to book straight away!